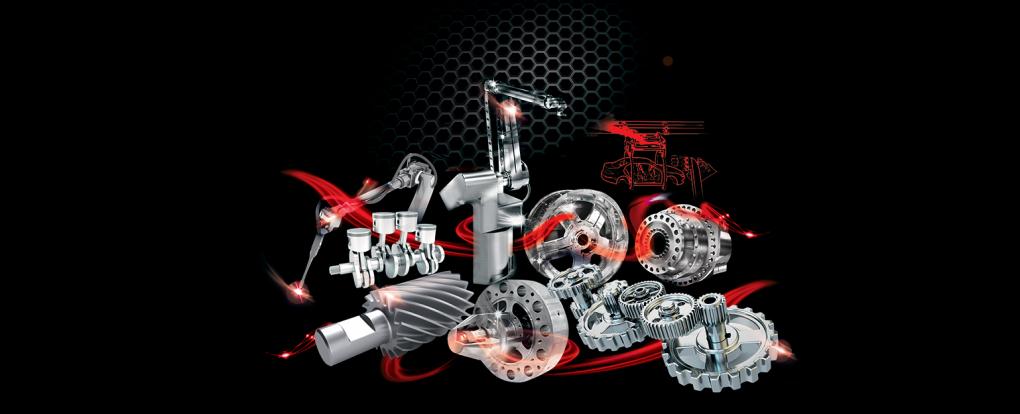 WIN EURASIA Metalworking 2016 (11–14 February)
METALWORKING LOVERS MET AT WIN EURASIA METALWORKING EXHIBITION
After 4 successful days, WIN EURASIA Metalworking closed its doors on Valentine's day. It consolidated its position as Eurasia's one of the most important industrial trade fairs by hosting metalworking lovers from the entire region. Connecting Metal Working Eurasia and Surface Treatment Eurasia the event introduced sheet metal working and surface treatment technology chain.
Innovative technologies such as robotic arms which are used for operations such as drilling, milling, sawing or bending and punching figured prominently at the fair. Their captivating demonstrations of speed, precision and power attracted great attention of the visitors and gave great ideas for the future manufacturing systems.
"A new period has begun in the industrial world. Named Industry 4.0, this new era is shaped under the light of digital technological developments and puts "smart production" to the center of the industry. These new developments allow the machinery, computers, drives and control devices in the manufacturing process to communicate with each other as well as to coordinate and optimize themselves almost entirely independent of human intervention. This reduces manufacturing time, cost and energy use whereas increasing production quality" saidAlexander Kühnel, General Manager of Hannover Messe Bileşim Fuarcılık, adding "Under the roof of WIN EURASIA Metalworking 474 exhibitors from 13 countries showcased their innovative solutions which guided visitors who wants to remain competitive in this new period. During the fair, visitors from the manufacturing industries such as packaging, automotive, iron-steel, plastics, aluminium had chance to find the best solutions to add more value to their business. "
A versatile business platform with special areas
Advanced technologies highlighted under Robotics
Organized for the first time last year in order to draw attention to the increasing significance of robotic technologies in the manufacturing processes and having received a lot of interest,Robotics met visitors under collaboration with ENOSAD (Industrial Automation Industrialists Association) this year again. In the special forum area 14 companies showcased their robotic solutions and over 20 presentations were made on Robot Technologies in the Manufacturing industry and Industry 4.0. Companies who attended in this area are as follows: Halıcı, E3 TAM, EMF Motor, ENTEK Otomasyon, FESTO, GÜNMAK, HKTM-HİDROPAR, KUKA ROBOTER CEE, MITSUBISHI Elektrik Turkey, NACHI EUROPE, SCHUNK Intec, STAUBLİ, YASKAWA Turkey, FANUC TURKEY.
Automotive manufacturing process showcased
Making yet another innovation, WIN EURASIA Metalworking demonstrated the role of the metal and surface treatment industry in automotive production live on the production line to be created with the Automotive Supply Chain section. On an area over 600 square meters, the event addressed the automotive production processes stage by stage with presentation by companies: Cutting - Dividing by MVD, Processing by ELMALI, Shaping by FLOW, Welding and Connection Equipment by AKDENİZ MAKİNA, Marking by FIBERLAST), Painting and Surface Treatment by ZAFER MAKİNA.
parts2clean and "Surface Treatment in the Metalworking Industry" Forum
Industrial part and surface cleaning technologies displayed altogether with the international pavilion created under the parts2clean brand within the framework of Surface Treatment Eurasia exhibition. Moreover, a forum was held on "Surface Treatment in the Metal processing Industry" under the scope of Surface Treatment Eurasia with the collaboration of VDMA and GALDER. Over 2 days, the trends of the industry were discussed.
Occupational health and safety (OHS) discussed at Safe@Work
Considering the fact that work accidents have particularly begun to occur more in recent years and their unfortunate consequences have caused major tangible and moral losses, precautions to be taken for the manufacturing industry and the latest developments regard to OHS was evaluated under the Safe@Work events organized for the second time this year. OHS risks in the sheet processing and surface treatment processes are addressed via the events to be held in collaboration with ISAG (Association of Occupational Health and Safety Professionals) in the conference halls and special forum area to be created in the 5th hall.
An international gathering for entire Eurasia
WIN EURASIA Metalworking offered major opportunities for domestic and foreign exhibitors to access new markets. Throughout the fair 29.821 visitors came from Europe, North Africa, Middle East and CIS countries besides Turkey.
Under the Trade Mission Program of the Ministry of Economy, which has held in 29 countries, buyers, editors and associations' representatives from Cameroon, Iran, Jordan, Morocco, Tunisia and UAE were hosted. Moreover, as a result of promotion works made in the target countries by Hannover Messe Bileşim Fuarcılık, the exhibition brought together buyer delegation groups from Bulgaria, Lebanon, Kosovo, Slovenia, Saudi Arabia and Ukraine. B2B meetings firstly organized this year between the international delegations and exhibitors, provided a significant contribution to the industry which is aiming to get a share of 100 billion USD from the 500 billion USD export target of Turkey for 2023. In addition to this, 50 Anatolian delegation groups from all around Turkey visited the exhibition as a result of collaboration with Chambers of Industry and Commerce, Trade Associations, Federations and other institutions.
Serhan Şenyurt, Chief of Internation Sales in ERMAKSAN stated that: "As a company attending the WIN EURASIA Metalworking for many years, our customer portfolio is increasing every year. The visits of national and international potential customers especially from Europe, Middle East, North Africa are making us happy. Here we have the opportunity to gain new contacts and present our innovations."
Mehmet Yıldız, EWM AG's Export Manager responsible for Turkey expressed his pleasure for being WIN EURASIA Metalworking: "We are happy to be here for the first time. It was a successful fair for us. We made a lot of potential business contacts. Depending on positive results we received, we are planning to exhibit next year again."
WIN EURASIA Metalworking became the first stop for the 2016 industry events of Deutsche Messe AG. This exhibition will be followed by WIN EURASIA Automation which will take place in TUYAP between March 17th and 20th.
The next WIN EURASIA Metalworking will be held from 09 to 12 February 2017.
Your contact for further information:
Cemre Uludere
Phone: +90 212 334 69 00
E-mail: cemre.uludere@hf-turkey.com